Camp Olly by Fennie+Mehl: A San Francisco Story
Insights
Camp Olly by Fennie+Mehl: A San Francisco Story
Read more about the project inspired by Olly's joyful, healthy brand.
San Francisco based Olly is a wellness-forward brand creating delicious healthy gummies. Their San Francisco HQ space is an immersive experience of the company's joyful brand - and recently won an award for Interior Design at SF Design Week!
We sat down with architect Diana Nankin, NCIDQ, CID, Principal at Fennnie+Mehl and leader for our Olly project team, to discuss the return to the office - and what the next chapter might be for cities like San Francisco as we emerge from the pandemic to a new reality of Work.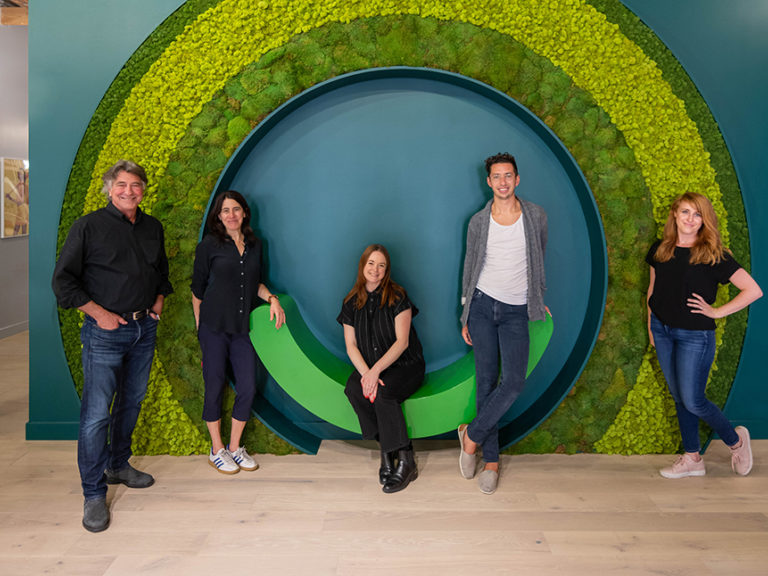 Pivot: Congratulations on the recent win at SF Design Week! What significance does that award hold for Fennie+Mehl, a San Francisco firm?
Diana Nankin: Thank you. To be recognized by our peers, not only in interior design and architecture, but the broader multi-disciplined design community of San Francisco is simply an honor. And thank you, Pivot, for your partnership in making this an award-winning project. With the right team, together we can do great things for our clients.

The Olly space just resonates joy. What inspired the story and overall look and feel of the space?
We were 100% inspired by our client, Olly. They got their culture right, and understanding that was all we needed to get the design ideas flowing.
They asked us to create an experience of walking right into their brand – a brand that intertwines happiness and wellness, and I think we got it right too. One of the key moments at 'Camp Olly', as they playfully call it, is experienced when the elevator doors open to an all-white reception desk inspired by their logo, and a curved product display wall with changing colored lights - it instantly conveys an all-in-one happy laboratory and retail space.
Olly is a great example of the office as a keystone for company culture. Now that we've proven that much of our work can be done remotely, is company culture a strong driver for the continued need for a physical workplace?
Absolutely. We fondly call Olly's headquarters Camp Olly, but this truly is a place for the team to work productively, create, experiment and play - in person together. These interactions build trust and connection with teammates. And hopefully by creating an experience in the workplace that embodies health in a beautiful and fun way, it also creates a positive destination for a work experience, more than just an office space.
This project was completed a few months before the pandemic hit. Have they made changes to accommodate a post-covid return to the office?
The office went fully remote at first, and then they welcomed small teams back once it was safe to do so, maintaining safe social distance. My understanding is that they will continue to work in this capacity temporarily, but Olly's ultimate goal is to go back to having most of the team in person in the office, most of the time.
Being together to collaborate and build relationships is so much a part of who they are as a company - and they are ready to get right back there.
What are you hearing from your clients today? Are they reassessing the purpose of the office, or the need to even have one? What are the new value-drivers for the workplace?
There is a huge range – from clients like Olly not looking to shift their office culture or change a thing about their remote-work policy, to others who have never had a remote-work policy and are not sure how to move forward, to those who will now be more remote-leaning.
We can help our clients get to the right answer of where their individual company falls on this range by asking the right questions. So far, we are not necessarily seeing a dramatic change in office purpose. In some cases, we are hearing needs for more hoteling stations and needs for more places to hold video-calls with thoughtful acoustics, as dispersed teams become more common. And Wellness: Creating a beautiful and functional workplace that considers employees' well-being is central to many of our designs.
Wellness: Creating a beautiful and functional workplace that considers employees' well-being is central to many of our designs.
How has your workplace changed to support your employees' changing needs? Is your team hybrid now?
Prior to the pandemic, we pretty much worked together in the office only. But we learned quickly how to adapt to being productive and effective together while apart, and we are excited to take some of the positive learnings of this past year-and-a-half as opportunities to evolve as a studio and a team.
Currently, we are running a living experiment at our studio, where we are all together in office two days a week – kicking off the week together on Mondays, and regrouping on Thursdays, which end with happy hour. The other days are work from anywhere – in office, with your clients, on site, or from home or other inspired settings if you need heads-down time.
As a creative team we thrive when we're together, but it is important to build in flexibility. We want to better understand what works best for individuals and teams to deliver our best work to our clients. And also to understand what doesn't work as well, so we can help guide our clients to make the best decisions for their teams too. We are collecting data and will continue to run surveys before we decide on the long term approach. We'll let you know what we discover!
You're based in San Francisco which has changed dramatically since covid – particularly downtown (where Pivot SF is also located). What do you predict for the future of the city? How will things change in urban centers with so many workers migrated to home offices?
I am a designer, I am an optimist and a creative problem-solver and believe we can make the best of most situations. I believe in innovation, and I love San Francisco and believe it is always going to be a draw for people and creative innovation.
I also know that we are social by nature and need to be together, and that workplaces are necessary. Hopefully the changes you are referring to - how people aren't excited to go back to commuting – can be a catalyst for the bigger urban planning and transportation changes that we have been desperately needing to solve for a long time anyway.
That said, Fennie+Mehl can work anywhere, the market is global, we have amazing partners all over, and if our clients decide to build other offices in other places, we are adept at bringing the experience and connections of the San Francisco design community to them.
Thank you so much Diana and we look forward to our next collaboration!