Insights
Go Big (or they'll stay home)
What does the future of work look like? Hybrid work, varied & adaptive settings... we sat down with expert Francis Aquino to discuss the powerful draw of the right space to support in-person work.
Read more
Future of Work
Support your team to do their best work, everywhere work happens
Get the insights and tools your company needs to navigate the new landscape of work
The Future of Work: Research + Insights
What is the future of work? How do you support a hybrid team? Herman Miller's latest insights help companies navigate the big questions and support people no matter where they touch down to work.
Learn more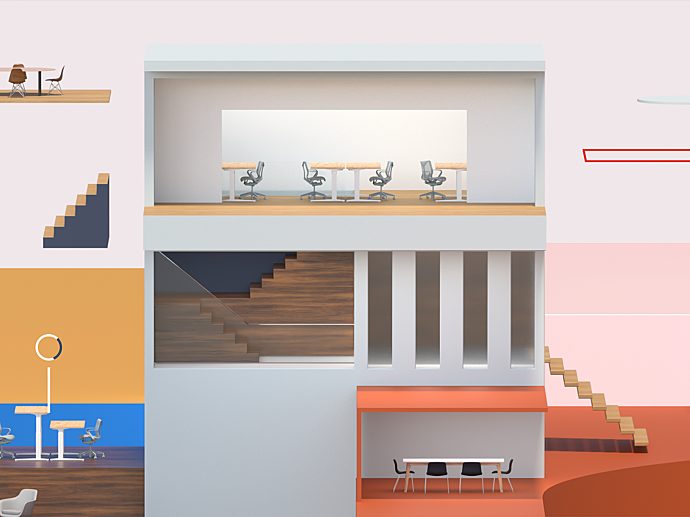 Who's working where?
Empower employees to choose where they'll touch down while you optimize space utilization with powerful insights and tools.
Live Platform
Hack Your Office
OE1 is a collection of optimized, essential pieces for a new era in the workplace. Designed to help people experiment with space, discover what works in the moment, and change for the future.
Explore
Essential Work
Healthcare in a New Era
Our purpose is to support pioneering healthcare providers doing essential work to save lives daily.
Testimonials
What our clients say
We create environments that support, empower and inspire the people who use them. Hear what our clients have to say about our work.
Nothing Short of a Miracle
"Thanks to meticulous planning and flawless execution, what was accomplished in eight days was nothing short of a miracle. Kudos to the entire Pivot team on keeping to their promises and delivering exceptional product and service." -Informatica
Testimonials
Knowledge and Insight
"Pivot brings a wealth of knowledge and insight to our projects. Their ability to execute and deliver at high speed is unmatched." -Juniper Networks
Testimonials
Who We Are
We are an expert team of innovators, creators, and thought leaders.
Get to know us
What We Do
At Pivot, we believe the right physical environment can improve a person's well-being, inspire innovation and enable them to perform their best.
Learn more
Warranty Service Request
Our Certified Service Operations team specializes in maintaining all brands of open plan systems and office furniture. If the furniture is still under warranty, we'll make the repair and manage the warranty process for you.
Warranty Request
Careers
As we redefine the workplace, come explore the possibilities with us.
Careers
Find a Location Near You
Six locations in California to serve your projects nationwide!
Get directions